History
Kasteel Wolfrath has a rich history. The earliest mention dates back to the 12th century, when the property was still a fief of the van Valkenburg nobility. At the time, it is most likely that only a farmhouse stood at the site. It was first mentioned as a manor house in 1386, when the Limburg families Van Haren, Van Wijlre and Van Vlorop acquired the rights to it.
From 1590, the house comes into the possession of the Bentinck family following the marriage of Maarten Bentinck to Petronella van Bronkhorst, daughter of Karel I van Bronkhorst-Batenburg. Maarten van Bentinck thus became the forefather of the family. He died in 1625.
On the estate, Bentinck's ancestors would eventually build Kasteel Wolfrath as we know it today. It has, of course, been expanded and renovated over the years.
During the French period, around the year 1802, Kasteel Wolfrath was confiscated by the French, who didn't think much of the nobility. After this, the estate falls into the possession of the Kerens family from Maastricht. With the help of the architect Soiron from Maastricht, they carried out extensive renovations, elements of which still remain visible today. Eventually, the castle is inherited by the Ruijs De Beerenbrouck family, who owned it until 1989 when Maria Mathilde Caroline Philippine Hubertine Ghislaine baroness De Loë, wife of the late Jonkheer Mr. Gustave Alexander Marie Joannes Ruijs De Beerenbrouck, deceased.
After a series of private owners, Kasteel Wolfrath was bought by VDL Groep in 2015 for use as accommodation and a conference and events venue.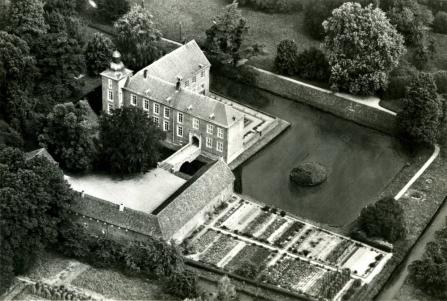 Kasteel Wolfrath in the year 1930. Resource: Kastelen.nl